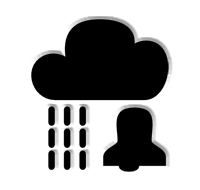 At Twitter, Facebook and Google+ you can follow for the latest news, ask questions, tell your opinion or report issues. You are also welcome to write an e-mail.
Why are there two versions and what does OSM mean?
Rain Alarm uses Google Maps as background map whereas Rain Alarm OSM uses OpenStreetMap (OSM). In most cases the OSM version loads faster, whereas Google Maps seems more clearly arranged. All other functionality as well as the precipitation data shown on top of both maps is exactly the same.

Back to top

<
Why should I buy the Pro version?
Basically the Pro version does not display any ads and has many settings that help you tailor the alarms to your needs as well as lots of options to customize the user interface, the widgets, location updates and much more.
For detailed information please see this page.

Back to top

<
Where and how can I buy the Pro version?
You are able to buy the Pro version over Google Play or alternatively over AndroidPIT. Until now in Google Play you can only pay by credit card, whereas it is possible to pay by PayPal over AndroidPIT. You'll find more information here.

Back to top

<
Why is my country not supported?
If your country is not supported, this is probably for one of the following reasons:

your country's weather service demands a license fee for commercial use and we cannot afford this yet
your country's weather service does not respond to emails or faxes asking about their copyright
your country's weather service does not provide radar images


Back to top

<


Classic and new design 2x1 widget
What do the widget icons mean?
The top arrow icon is the proximity, which indicates how close precipitation is to the current location. Proximity is the opposite of distance, that means that the closer the precipitation gets, the smaller the distance and the larger the proximity.

The middle drop icon is the intensity, which indicates how heavy the precipitation is.

The bottom cloud icon is the size or area, which indicates how large the affected area of the precipitation is.

Classic design: The shading indicates if the particular value increased (pointing to the right), decreased (pointing to the left) or stayed the same (no shading).

New design: The bar itself gets true blue if increasing, gets just a bit blue if nothing changed, and gets white/black (depending on the widget theme) if decreasing.

Back to top

<


Scale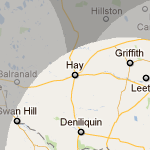 Coverage
What do the colors on the map overlay and scale mean?
What do the notifications mean?
I think the battery usage is high - what could be the cause?
Why is the app running in the background?
or
Why should I disable my task killer for Rain Alarm?
Why is the app showing rain sometimes when it isn't raining?
Why isn't the app showing anything sometimes although it is raining?